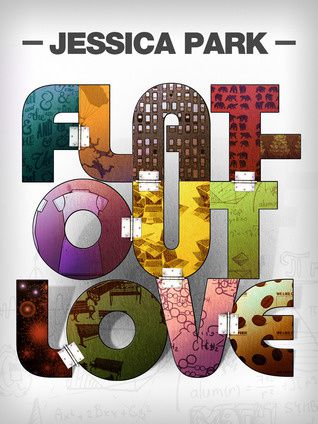 Tough I had many ideas in my head, I really didn't know how to start this blog... But since I love reading and moreover since I totally fell in love with Flat out love by Jessica Park, I said to myself, ok why not just begin with a review of this story ?
So here the summary :
"Something is seriously off in the Watkins home. And Julie Seagle, college freshman, small-town Ohio transplant, and the newest resident of this Boston house, is determined to get to the bottom of it. When Julie's off-campus housing falls through, her mother's old college roommate, Erin Watkins, invites her to move in. The parents, Erin and Roger, are welcoming, but emotionally distant and academically driven to eccentric extremes. The middle child, Matt, is an MIT tech geek with a sweet side ... and the social skills of a spool of USB cable. The youngest, Celeste, is a frighteningly bright but freakishly fastidious 13-year-old who hauls around a life-sized cardboard cutout of her oldest brother almost everywhere she goes.
And there's that oldest brother, Finn: funny, gorgeous, smart, sensitive, almost emotionally available. Geographically? Definitely unavailable. That's because Finn is traveling the world and surfacing only for random Facebook chats, e-mails, and status updates. Before long, through late-night exchanges of disembodied text, he begins to stir something tender and silly and maybe even a little bit sexy in Julie's suddenly lonesome soul.
To Julie, the emotionally scrambled members of the Watkins family add up to something that ... well ... doesn't quite add up. Not until she forces a buried secret to the surface, eliciting a dramatic confrontation that threatens to tear the fragile Watkins family apart, does she get her answer..." (source : Flat out love's fourth cover)
Like I said before, I fell in love with this book ! I mean, everything about it is perfect ! The story was very easy to read, well-written and I have to admit, I had a real shock after the Watkins's secret being unveiled... Besides, the charaters were all superbly developed, the relationship and the dialogues between them was super fun, witty, hearwarming but also a little bit heartbreaking... And speaking of the characters, like many of the people who read the book I adored Celeste (quirky... but who isn't ? , smart, so mature for her age and at the same time so innocent...), though I have to tell you the truth I had a big big crush on Matt.... I enjoyed his geekiness and his sometimes lack of social skills, his tee-shirts (however, what kind of person goes out with a representation of a caffeine molecule on ?!?), but mostly I loved the fact that he sacrified his college life to take care of his little sister and make sure she was always ok...
So for this book I only have one advice for you : Buy it, read it and love it !
I have so many favourite scenes in this book (not necessarily in the right order) :
- The "elevator" scene : so so hoooot (but not as you picture it to be)
- The "christmas tree" scene : cute, cute cute !
- The "drunk phone call " scene : OMG ! So funny and wished it was longer !
- The night of Celeste's meltdow and the morning after : a bit of heartbreak and a sweet and dose of "oh la la !"
- The ending scene : but I don't want to spoil !!!!
And since I am what can be called a hopeless romantic, here my favourite quote of the book : " She sniffed, aware that she'd become a blubbering mess in an instant. But that's what love does to you. Gut-wrenching, overpowering, crushing, fulfilling, complex, bring-to-you-knees love"...